The way to go: From JMD's Desk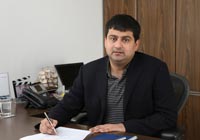 Managed by professionals, driven by skilled work force and run under state-of-the art manufacturing and testing facilities, UM Group is today known internationally for its excellent product quality and service support.
Each individual product undergoes stringent quality tests in-house before it leaves our premises. In over two decades of operations, the management has always been conscious of its responsibility to transform UM to make it truly world class, to ensure its continued long term success and growth. We would continue to manufacture and deliver increasingly high standards of quality products that have earned us reputation time and again.
Each day hundreds of UM Group employee contributes to its activities. UM Group believes that the true and full measure of growth, success and progress lies beyond balance sheets or conventional economic indices. It is best reflected in the difference that business and industry make to the lives of its people and society around it.
We would strengthen our present to define our future. Through our investment in our employees and understanding our social responsibilities, we would address the needs of internal and external customers alike. UM Group would take sustainable initiatives in the areas of empowering employees, giving them opportunities to learn, grow and foster them into leaders of tomorrow.
SUSHANT CHHABRA
JMD
UM Group